Captured Event
April 26, 2018 - 35 Annual Spring Luncheon with Kristen Johnston
What: The Waggoners Foundation Speakers Series
Where: Hilton Americas - Houston
When: Thursday, April 26, 2018
Beneficiary: The Council on Recovery
Presenting Sponsor(s): The Wayne Duddlesten Foundation
Co-Chair(s): Bob Newhouse and Devon Anderson
President(s): Mel Taylor
Introductions: Mel Taylor and Jerri Dudlesten Moore
Invocation: Pastor Jim Love
Speaker: Kristen Johnston
Blacktie Photos by: Derek Salyer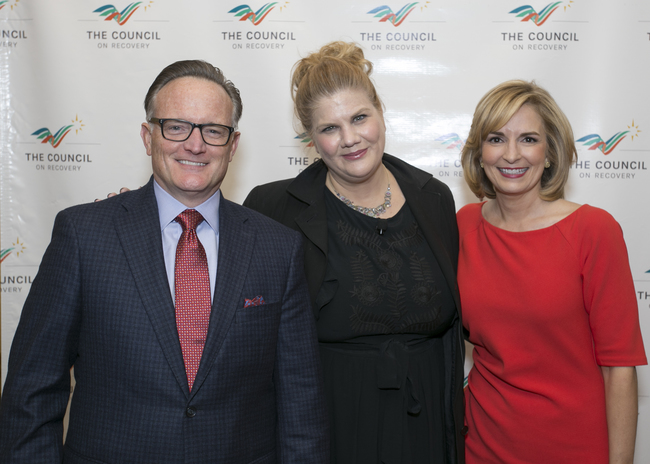 Chairs Bob Newhouse and Devon Anderson with Kristen Johnston

The Council on Recovery prides themselves on providing straightforward solutions to individuals and their families that are being affected by alcoholism, drug addiction, and the mental health disorders that coincide with those afflictions. Since 1946, The Council on Recovery has been providing support to the Greater Houston community through a range of outpatient recovery services to both individuals and families, and are proud to say they turn no one away, no matter what their financial situation is. This is why the Waggoners Foundation Speaker Series is so critical to the continuation of this outstanding public resource.
On Thursday, April 26, 2018, The Wayne Duddlesten Foundation presented the 35th Annual Spring Luncheon with celebrity guest speaker, Kristen Johnston.
For 35 years, the Spring Luncheon has been a beacon of hope in the Houston recovery community. It allows for all of those that have been affected by addiction in so many ways, to be able to give back to those who need help to start, or maintain their recovery. The Spring and Fall Luncheons consistently attract more than 1,000 attendees and help to raise a combined total of close to one million dollars each year to directly fund many of The Council's programs that help so many Houston individuals and families struggling with the effects of addictions.
As The Council says, You know someone who needs us, and the truth of that statement is what makes the efforts of these luncheons so much more important to make sure they never have to turn anyone away.