Captured Event
January 21, 2011 - New Ocean (is) Prime for Denver Hospice
What: Grand Opening Celebration to benefit the Denver Hospice
Where: Ocean Prime Restaurant, Larimer Square
When: Wednesday, January 19, 2011
Time: 5:30 - 8:30 p.m.
Ticket Prices: $100 per guest ($75 for young professionals)
Beneficiary: The Denver Hospice
Host(s): Ocean Prime Restaurant
Entertainment: Live house band
Menu: Selections from Ocean Prime's menu
Event Coordinator: Josh Hanfling
Blacktie Photos by: Steven Shoppman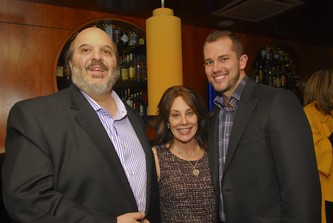 John Imbergamo, left, Wendy Aiello and Zach Montgomery at the new Ocean Prime

On Wednesday in a short but sweet snowstorm, two excellent events met to create a night full of fun for a good cause. Ocean Prime recently finished building the latest of their restaurants in their high end chain with locations across the US in places like Miami and Dallas. While their grand opening was not until the next evening, the lucky patrons of this event got a preview of the new establishment while raising money for the Denver Hospice.
Josh Hanfling put on this elegant event giving everyone not only a preview of the classy design and décor of the restaurant, but also a taste of the new menu at Ocean Prime Denver, which is situated in Larimer Square. The menu included bites of tuna tartar, pork tenderloin sliders and more, served by the efficient staff, always there to not only serve food and drinks, but never to let a second go by without picking up empty plates and glasses. This preview was a good testament to the level of quality and service Ocean Prime holds itself to.
This level of quality is matched by the invaluable services performed every day by the Denver Hospice. Since 1978, The Denver Hospice has taken care of countless patients with advanced illnesses. With the high costs associated with this type of care, fundraisers like this are essential to providing the patients and their families top notch care in the hard emotional times that come with the unfortunate circumstances of hospice care.
Over the course of the last three decades, the Denver Hospice has helped over 50,000 patients and their families. As Colorado's leader in hospice and palliative care they are committed to caring for everyone who comes through the door wherever they call home. As their mission states:
We care for the elderly at the end of their long, rich lives.
We care for those struck far too young by advanced illness.
We offer comfort to those who choose to battle their life-limiting illness.
We offer comfort and grief counseling to families and friends.
Ocean Prime is most certainly going to be one of the new hot spots in Denver with their delicious food and classy style. It is an incredible thing that they could start things off on such a great note helping a great cause. The excitement of seeing the restaurant before anyone else was a treat for everyone in attendance and the packed rooms of Ocean Prime will surely bring a generous donation to the Denver Hospice.
For more information about Denver Hospice, log on to www.thedenverhospice.org.