Captured Event
June 21, 2010 - Partners For Quality presents 19th Annual Bob Pompeani Golf Classic
What: Golf Tournament, Reception, Dinner and Awards
Where: Chartiers Valley Country Club
When: June 21, 2010
Master of Ceremonies: Bob Pompeani
Catering: Chartiers Valley Country Club
Attendance: 250 + Golfers and guests
Attire: Golf Attire
Event Coordinator: Mary Mitchell
Blacktie Photos by: Margaret Milliern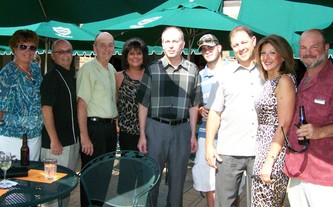 Partners For Quality Foundation presents, 19th Annual Bob Pompeani Golf Classic with guests Scott Frankowski (Board), Dean Manna (Board), Cindy King (Director of Event Committee), Dan Skriptach (CFO) and Don DeMichle (CEO)

For the 19th year, Partners For Quality, Inc. and the Partners For Quality Foundation, welcomed over 200 golfers and their guests to a fabulous event hosted at the Chartiers Valley Country Club. Wonderful weather greeted the participants as each team was truly a winner. Bob Pompeani greeted all and served as the emcee through the entire evening.
Thanks to the generous contributions of many individuals, corporations and foundations, Partners For Quality, Inc. provides quality services and supports to children and adults with disabilities. Although Partners For Quality receives its operating funds from various public sources, the private gifts, grants and fundraising events help the Agency to go "above and beyond." As a tax-exempt, nonprofit corporation, Partners For Quality relies on donations to purchase specialized / therapeutic equipment, upgrade facilities and offer programs not funded by government dollars. Funds are raised through a variety of activities. By contributing, you are helping people with different abilities to achieve their hopes and dreams.
The efforts of the Partners For Quality Foundation are directed toward generating revenue and procuring resources, which are used to enhance the overall operations of Partners For Quality, Inc. and its subsidiary corporations.
For more details and information about Partners For Quality Foundation, please visit our website at www.partnersforquality.org or email us at foundation@pfq.org