Captured Event
June 21, 2010 - Staying on Course with Arapahoe House
What: 2010 Golf Tournament
Where: Green Gables Country Club
When: Monday, June 21, 2010
Time: 7:00 a.m.-2:30 p.m.
Welcome: Aaron LaPedis, Tournament Founder
Speaker: David Murphy, CEO
Catering: Green Gables Country Club
Sponsors: Colorado Casualty, Lockton, Budget Control Services, Colliers Bennett & Kahnweiler Inc., Facination St. Gallery, Flood & Peterson Insurance Inc., Colorado Auto & Parts, Palace Construction Co. Inc., Type Etc.
Menu: Grilled chicken, chilled salads, corn on the cob, fresh fruit, chocolate chip cookies and brownies
Attendance: 100
Attire: Golf casual
Special Thanks: Volunteers: Linda Daniel, Sylvia Francis, Warren Hanks, Helen Hanks, Lou Jahde, DJ Jensen, Mary Kern, Sandee LaPedis, David Murphy, Christine Powers, Laura Romero, Ronald Rose, Arthur Schut, Stevie Seewald, Ronald Stanley
Planning Committee: Aaron LaPedis, Paulee Brody, Kevin Brunkow, Mike Butler, Jack Fitzgibbons, Greg Gulley
Board of Directors: Ronald Rose, Laura Romero, Jack Fitzgibbons, Stan Sena, Thomas Clark, Linda Daniel, Lynn Miller Doyle, David Kohlwey, Lucille Gallagher, Christine Powers, Ellen Miller-Brown, Marcella Rapp, Rep. Nancy Todd, Brandon Mencini
Blacktie Photos by: M. Darcy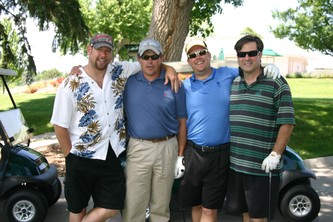 Doug Quinlivan, John Chandler, Charlie MacRossie and Aaron Lapedis having a great time

Staying on Course with Arapahoe House

Jason McMillan is wearing a pink tutu as he watches Mike Butler slam one down the fairway. Jason rests his arms on the driver laid across his shoulders and juts his hip, making the tutu look quite jaunty while he waits his turn. It's a great day for golf at Green Gables Country Club, especially when a $5 donation will get you a tutu and a shot from the women's tee, and it's all to support Arapahoe House's programs.
Monday, June 21's perfect weather made for an excellent turnout of teams at one of Denver's elite and challenging courses. It was noted that the event had more women's teams than usual.
One of those teams is down by the lake. Chris Morlan is raking the sandtrap when Barb Schroeder returns from the cart on the hill. "Did you get my ball?" Barb asks.
"It's in the lake, remember?" Chris replies.
The women all laugh, and Barb quips, "Well, where's your snorkle? You can just dive in and get it."
Chris declines, not having a bathing suit.
Tim Martin has his young son on his team. Tim Sr. poses in perfect Tiger Woods form and hollers, "Okay, take my picture!"
Lou Jahde enjoys the course under a canopy bearing his company name, Palace Construction. He and Amy Reitmayer and Jesse Fish pass out power bars, trail mix and Gatorade to golfers. It's a relaxing way to contribute to the fun.
Near another hole, golfers get hit up by Helen Hanks who bets they can't make a shot. Helen has been an anchor for Arapahoe's fundraisers for years. Josh Pruyn from Arapahoe House holds a giant red and white umbrella for her. "They're golfing too good today," she smiles. But where luck fails, her charm wins over. She can wrestle a few extra bucks out of them anyway, and it's all for the charity. She's determined to do even better next year.
The tournament started with 7:00 breakfast at the country club, which included their famous hickory-smoked bacon. It ended with a late lunch that golfers raved about - simple, but tasty salads, grilled chicken and corn on the cob. The chocolate chip cookies disappeared, but staff were happy to bring out a few more for guests.
Aaron LaPedis, tournament founder, welcomed guests and congratulated winners. Trophies included Best Men's Foursome to Mark Boscoe, David Kolojay, Mark Friedman, and Chris Strubel, and to Melody Staffen, Tangy Buchanan, Paulee Brody and Rennie Coleman for Best Women's Foursome. The Best Mixed group was Jerry and Phyllis Clouse and David and Laurie Cribari.
When you support the programs of Arapahoe House, you're supporting a community effort to pull people out of the holes they find themselves in. Getting back on course isn't easy, but it's easier with help. Arapahoe House has 14 facilities conveniently located throughout the Denver area. If you'd like to learn more about their mission, or you just want to get in a good day of golf next year, call 303-657-3700 or go to http://arapahoehouse.org.