Florida Nonprofits Getting Grant Ready Webinar
Wednesday, May 31, 2023
Each year, Federal government grants total almost two trillion dollars from over 900 federal grant programs. Foundations and corporate giving surpasses $105 billion. Effective grantwriting is vital to access these funds.

Learn 10 components of building a better proposal in this 90-minute webinar, which is complimentary to Florida Nonprofits' members or $15 for non-members. Presenter: Marina Pavlov
Online
Anywhere with a computer or phone and internet connection

Attire: Come as you are
Tickets
Description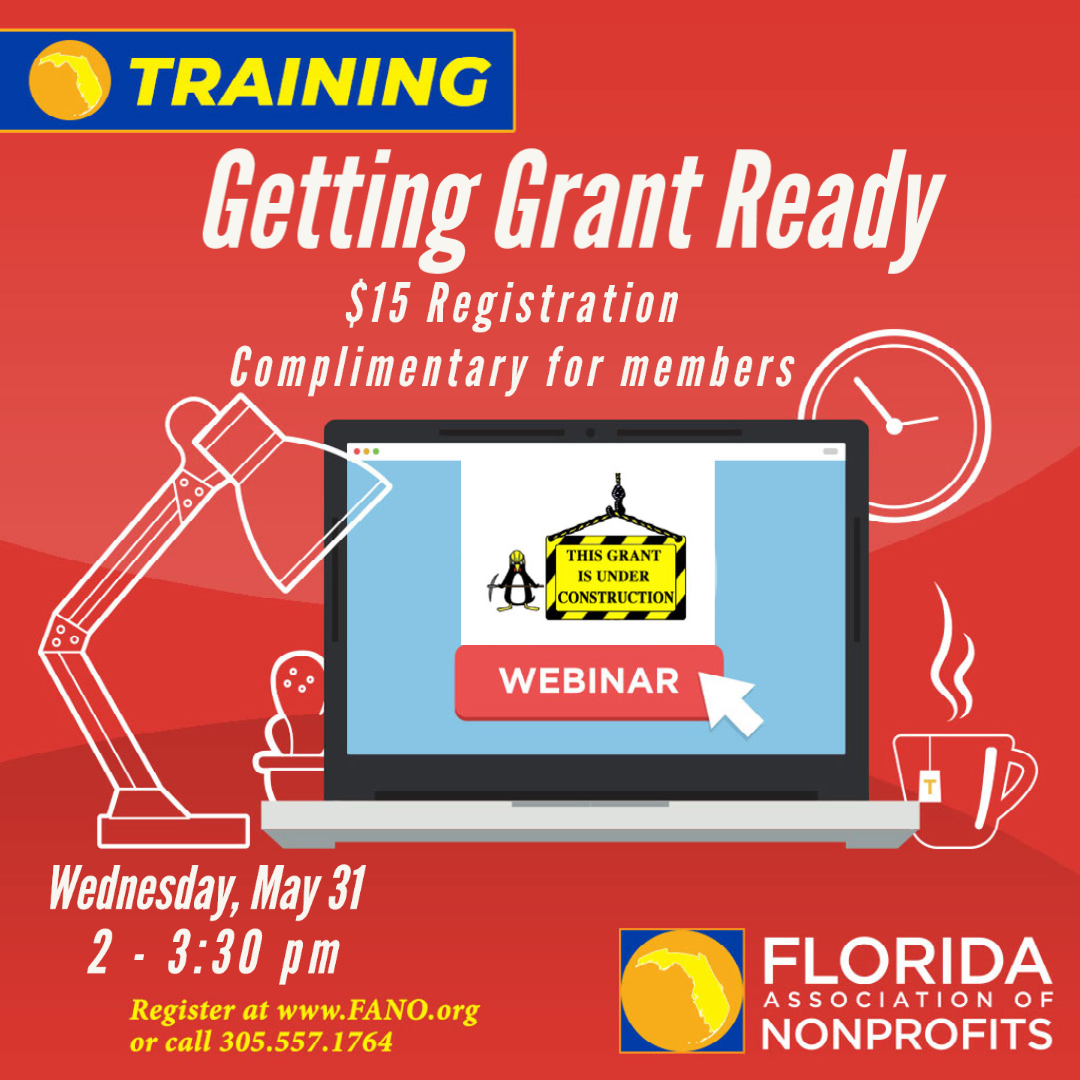 Each year, Federal government grants total almost two trillion dollars from over 900 federal grant programs. Foundations and corporate giving surpasses $105 billion. Effective grantwriting is vital to access these funds.

Learn 10 components of building a better proposal in this 90-minute webinar, which is complimentary to Florida Nonprofits' members or $15 for non-members.
Presenter: Marina Pavlov
About Us
Florida Nonprofits
Florida Association of Nonprofits assists Florida's 50,000+ nonprofits, in strengthening their leadership, management, financial and public policy capacity to reach their missions. We invite participation by anyone interested in the future of Florida's private, nonprofit sector. Florida Nonprofits, a 501(c)(3), is Florida's state association of nonprofits and a member (since 1991) of the Independent Sector, Washington, D.C. FANO has contributed to the leadership and founding of many nonprofit organizations including: Aspen Publishers, National Council of Nonprofit Associations (NCNA, now called NCN), Sister Cities International and Kids Voting. Contributions to Florida Nonprofits are tax- deductible as allowed by law.
The Venue
Online
Anywhere with a computer or phone and internet connection
Notify Me
Notify Me When An Event I Like Is Added to the Calendar-
click here
Edit My Notification Preferences -
click here
Sponsored by
The Florida Association of Nonprofits