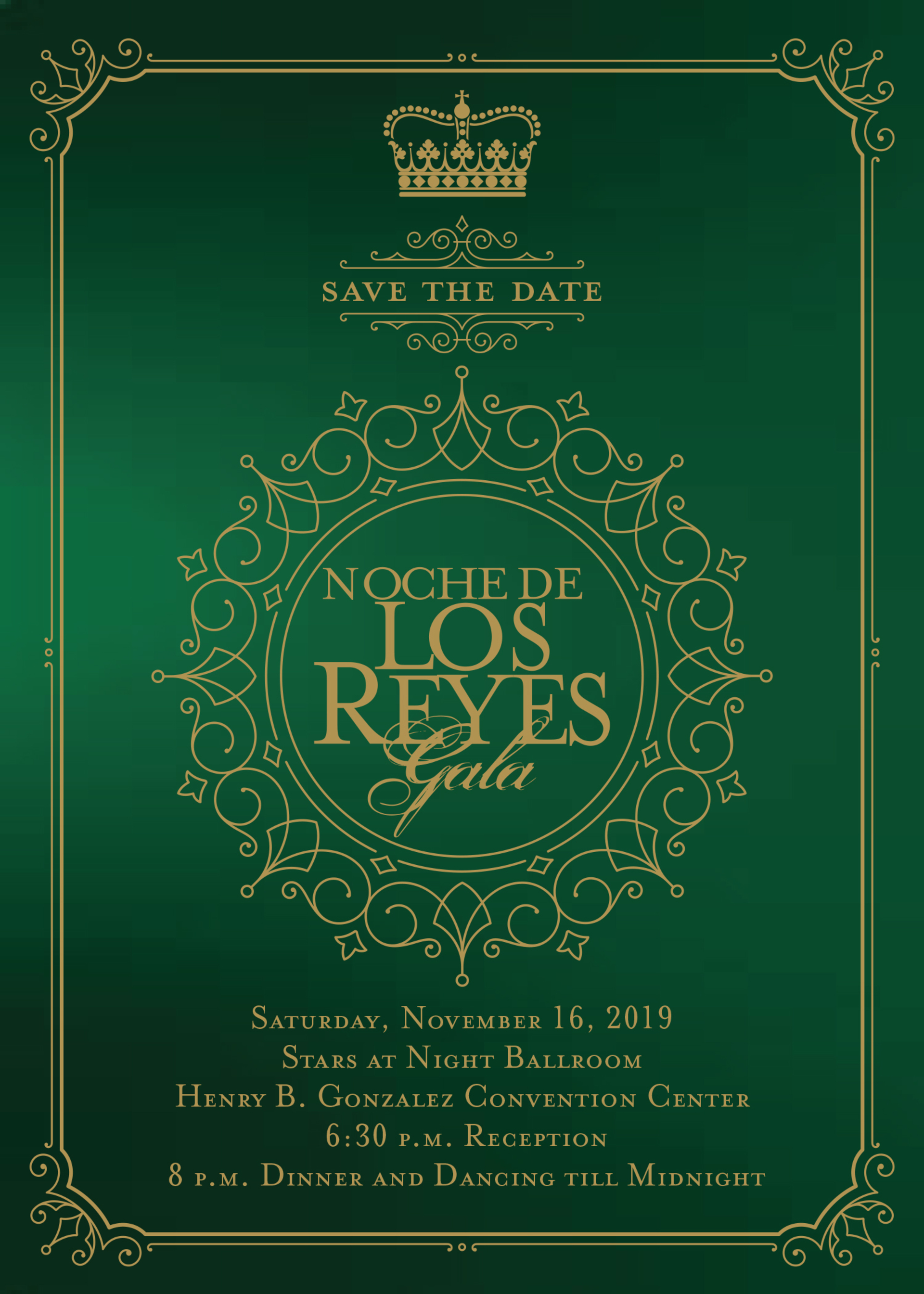 Noche De Los Reyes Gala
Saturday, November 16, 2019 at 6:30 PM
Reception at 6:30 PM

Sponsor's Cigar Lounge at 6:30 PM, By Invitation Only For Premium Table Sponsors and Above

Dinner Doors Open at 7:30 PM

8 PM Live Music and Dancing till Midnight
Henry B. Gonzalez Convention Center Stars at Night Ballroom
900 E. Market Street San Antonio, Texas 78205

Attire: Black Tie Required
Tickets
Online Registration is closed. Please email landrade@reyfeoconsejo.org.
Description
Elegance meets an Evening of Entertainment for Education!
Help us raise more money while having the most fun! We have selected a cuisine experience fit for a king to compliment the champagne, wine and exclusive spirits for the evening. 
This year the goal is to raise money and keep you on the dance floor! The evening will kick into high gear with San Antonio favorites Nic Dante and Patsy Torres, playing all the top dance hits, cumbias and R&B to keep you moving!
As a 501 (c) 3 nonprofit organization, the Consejo underwrites approximately $175,000 in Rey Feo fiesta and school program expenses and donates an additional $100,000 to our partner organization, LULAC Council #2/Rey Feo Scholarship Foundation, to supplement their college scholarship awards. 
Thank you for your sponsorship investment to help us reach our fundraising goals! You may call, text or email me to answer any questions and confirm your support. It will be a night to remember! Get your dancing shoes ready!
Richard Ojeda                                 
Rey Feo 64                                       
(210) 854-9074                           
About Us
Rey Feo Consejo Educational Foundation
The Rey Feo Consejo Educational Foundation is a membership-based nonprofit founded in 1982 by Rey Feo XXXII Logan Stewart. The organization is comprised of former Reyes Feos who approve other business and civic leaders for membership through an annual application process. Applicants must be nominated by a current member in November.
The organization's mission is to uphold the traditions, increase awareness and support the fundraising efforts of the Rey Feo program. To learn more about the history of LULAC #2 and the founding of the Rey Feo scholarship program, please visit www.ReyFeoScholarship.com. Scholarship applications are available for high school seniors in January of each year.
The Venue
Henry B. Gonzalez Convention Center Stars at Night Ballroom
900 E. Market Street San Antonio, Texas 78205
Notify Me
Notify Me When An Event I Like Is Added to the Calendar-
click here
Edit My Notification Preferences -
click here
Sponsored by
Bud Light