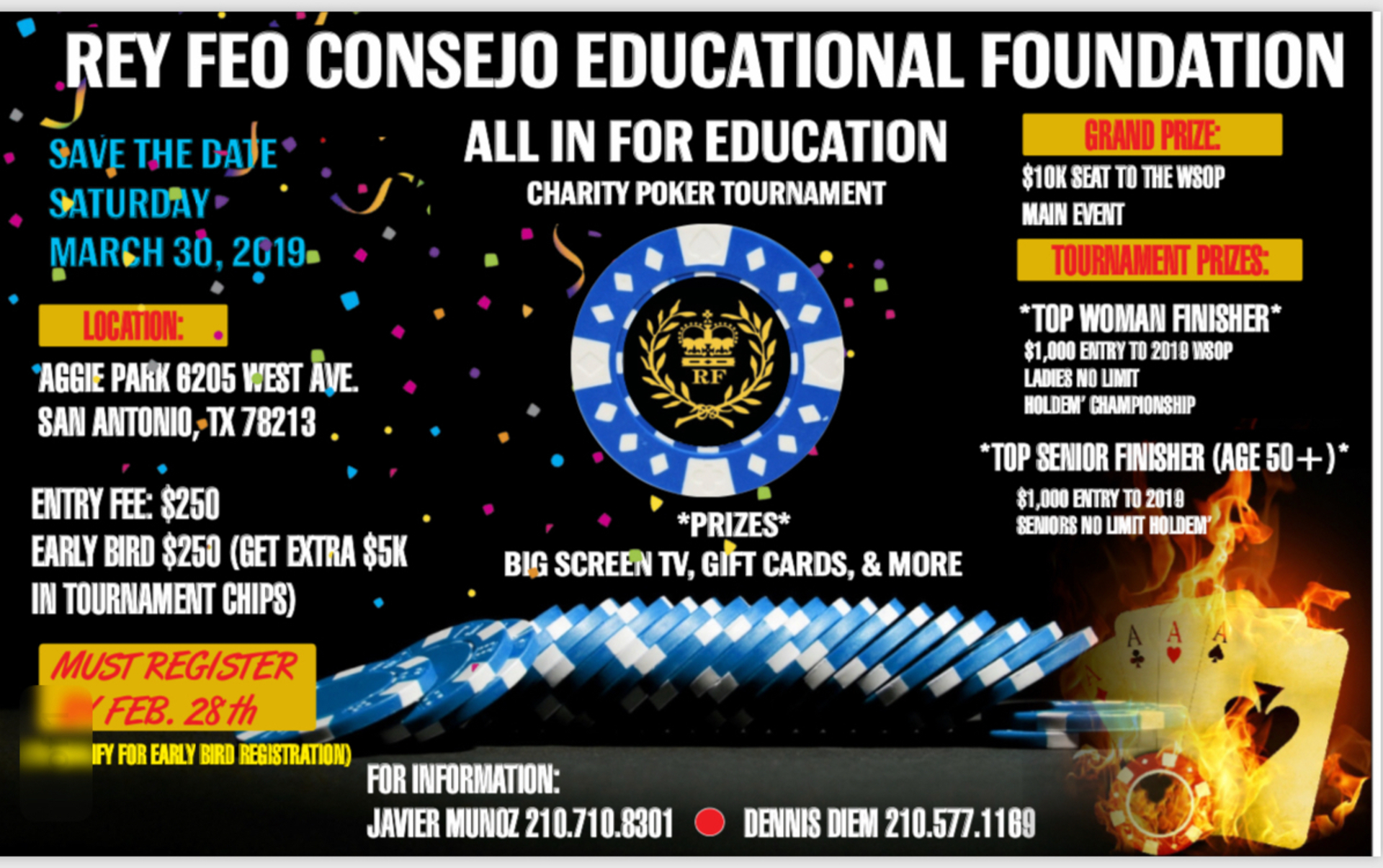 Rey Feo Consejo Educational Foundation All In For Education - Charity Poker Tournament
Saturday, March 30, 2019 at 10:00 AM
Aggie Park
6205 West Ave., 78213

Attire: Casual Attire
Tickets
Description
Texas Hold 'Em Tournament on Saturday, March 30. $250 donation per player to enter: early buy-in by February 28 gets players 15,000 chips plus free spectator ticket.
10,000 chips after 2/28 or at the door. 
Grand Prize: $10,000 seat to the WSOP Main Event
Tournament Prizes:
Top Woman Finisher - $1,000 entry to 2019 WSOP Ladies No Limit Holdem' Championship
Top Senior Finisher (Age 50+)
$1000 Entry to 2019 Seniors No Limit Holdem'
Top 10 finalists compete at the Crown Celebration on April 19 at the Grotto. Proceeds benefit the reign of Rey Feo LXXI Dr. Sal Barbaro. For more info call (210) 577-1169 
Spectators, includes drinks and lunch:
Before 2/28 $40
After 2/28 $60
About Us
Rey Feo Consejo Educational Foundation
To help educate the next generation of Texans.
The Venue
Aggie Park
6205 West Ave., 78213
Notify Me
Notify Me When An Event I Like Is Added to the Calendar-
click here
Edit My Notification Preferences -
click here
Sponsored by
Rey Feo Consejo Educational Foundation