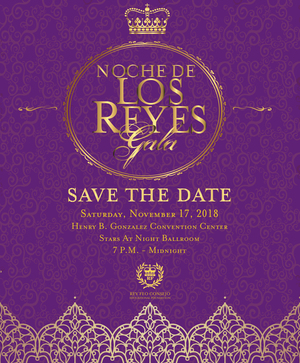 Noche De Los Reyes Gala
Saturday, November 17, 2018
Reception at 6 PM

Sponsor's Lounge at 6 PM, By Invitation Only As Indicated on Sponsorship Level

Dinner Doors Open at 7 PM

8 PM Live Music and Dancing till Midnight
Henry B. Gonzalez Convention Center Stars at Night Ballroom
900 E. Market Street San Antonio, Texas 78205

Attire: Black Tie Required
Tickets
Online Registration is closed. Please email landrade@reyfeoconsejo.org.
Description
Prepare to dance like you've never danced before!
As gala chairs, we are taking the Noche De Los Reyes Gala to the next level! Help us raise more money while having the most fun! We have selected a cuisine experience fit for a king to compliment the champagne, wine and exclusive spirits for the evening. Several new surprises this year including a cigar lounge!
Did someone say less talking and more time to party? The evening will kick into high gear with the Memphis Train Revue, an award winning 10-piece band who will perform the best R&B, funk and current dance chart hits.
As a 501 (c) 3 nonprofit organization, the Consejo underwrites approximately $150,000 in Rey Feo fiesta and school program expenses and donates an additional $100,000 to our partner organization, LULAC Council #2/Rey Feo Scholarship Foundation, to supplement their college scholarship awards.
Thank you for your sponsorship investment to help us reach our fundraising goals! You may call, text or email us to answer any questions and confirm your support. It will be a night to remember! Get your dancing shoes ready!
Richard Ojeda Walter Serna Dr. Jose Ruiz
Rey Feo 64 Rey Feo 62 cjruiz@hotmail.com
(210) 854-9074 (210) 415-6707
noem@btacatering.com baltazar@sernaserna.com
About Us
Rey Feo Consejo Educational Foundation
To help educate the next generation of Texans.
The Venue
Henry B. Gonzalez Convention Center Stars at Night Ballroom
900 E. Market Street San Antonio, Texas 78205
Notify Me
Notify Me When An Event I Like Is Added to the Calendar-
click here
Edit My Notification Preferences -
click here
Sponsored by
Bud Light