GCFC Presents: Production Assistant Workshop with Mikki Ziska
Friday, June 16, 2017
9:00 AM - 4:00 PM
(One hour for lunch on your own)
Attire: Casual Attire
Tickets
Description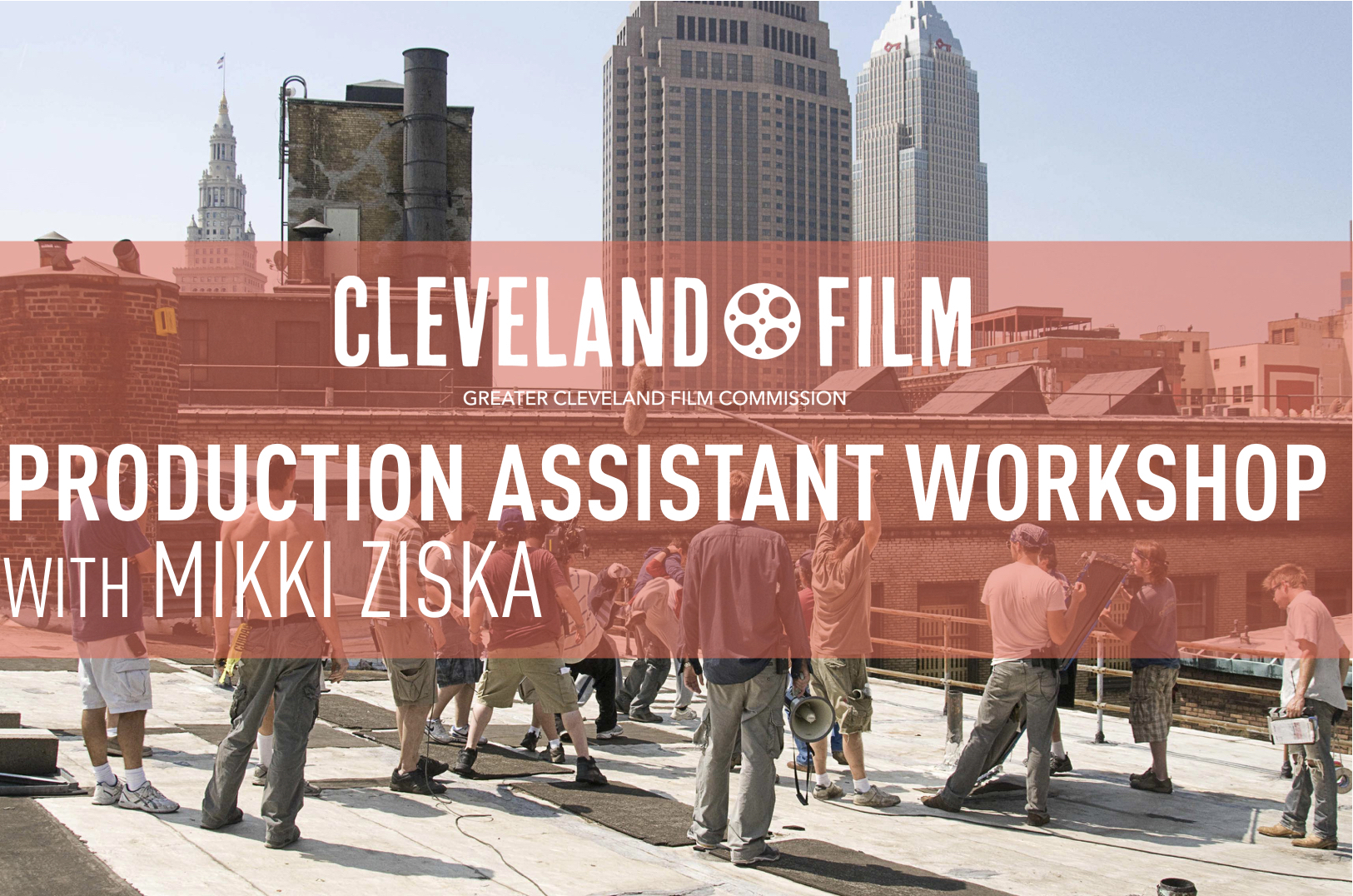 Northeast Ohio native Mikki Ziska is returning to Cleveland to lead a Production Assistant Workshop as part of the Greater Cleveland Film Commission's workforce development program, REEL Education for REAL Jobs.

Mikki has a long career in the film and television industries, starting out as a Production Assistant, and working her way up to higher-level positions like First Assistant Director and Unit Production Manager. Her television credits include such hit shows as "The Sopranos," "30 Rock," "Law & Order," "Unbreakable Kimmy Schmidt" and "The Americans," and her film credits include "Analyze This," "The Beaver" and "A Beautiful Mind."
The workshop will focus on the skills and knowledge necessary to work on a film or television set as a Production Assistant (PA), and the effort and mindset it takes to succeed in the industry.

Working as a PA is often the first step towards a career in media production, and the work they do is crucial to the creative process. PAs work with every department within a production and the skills he / she develops as part of these first jobs dictate and support the departments they move into next. From the office to basecamp to managing walkie-talkies, there's a PA for just about everything.

Two standalone sessions are available for registration at a cost of $50 each. You may choose only one session to participate in.
Workshop for ages 18 and up
Please note that no formal training, education, or prior experience is necessary to register for the workshop.

WORKSHOP DATES:
Friday, June 16th
9:00am - 4:00pm
(One hour for lunch on your own)
Location: TBD (Downtown Cleveland)

Saturday, June 17th
9:00am - 4:00pm
(One hour for lunch on your own)
Location: TBD (Downtown Cleveland)

We will update registrants and the general public on the location of the workshops
and other details as they become available.
In the meantime, any questions may be directed to Production Coordinator Laura Stringer at lstringer@clevelandfilm.com.
---
ABOUT GCFC
GCFC is the only non-profit dedicated to bringing jobs and economic impact to Northeast Ohio through the growth of a sustainable media production industry. We work every day to advocate for policies that will benefit this industry in Ohio, attract productions of all kinds (movie, tv, commercial, video game) to the region and provide workforce development programs to equip local crews and vendors with the tools designed to meet the needs of visiting filmmakers.

Our organization was instrumental in the founding of Cleveland State University's new School of Film, Television, and Interactive Media, which will be the first of its kind in Ohio when it opens in Fall 2017.

We do not receive any funding from the productions that we bring to town, and rely solely on donations from community partners, local businesses and people like you.

Join our team in supporting the continued growth of the media industry in Northeast Oho by becoming a GCFC Member today!

FACEBOOK TWITTER LINKEDIN INSTAGRAM
Rules & Restrictions
Please email Seema at sjayaswal@clevelandfilm.com for any refund requests.
About Us
Greater Cleveland Film Commission
VISION: Achieve increased economic development in Northeast Ohio by using the artistic and culturally enriching activities of film and other media production to strengthen the workforce, support the media production industry and attract media production to the region.
MISSION: Promote the increase of media production in Northeast Ohio using effective strategies for attraction and workforce development including building an artistic infrastructure through film.
Notify Me
Notify Me When An Event I Like Is Added to the Calendar-
click here
Edit My Notification Preferences -
click here
Sponsored by
Greater Cleveland Film Commission