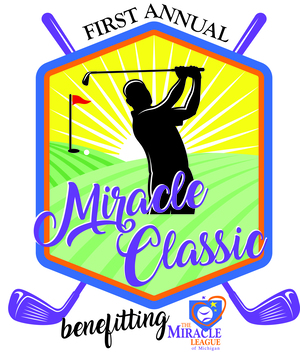 First Annual Miracle Classic Golf Outing
Saturday, September 16, 2017
7:00 AM - Registration and Continental Breakfast

8:00 AM - Shotgun Start

1:30 PM - Dinner and Cash Bar
The Farmington Hills Golf Course
37777 11 Mile Court Farmington Hills, MI 48335

Attire: Business Casual
Tickets
Description
First annual Miracle Classic Golf Outing to benefit Easterseals Miracle League of Michigan
PLEASE NOTE: The date of the golf outing has been changed to Saturday, September 16. Please contact Andrea at 866.345.8998 with any questions or concerns. Thank you!
When: September 16, 2017
7:30am
Where: Farmington Hills Golf Course
37777 11 Mile Court
Farmington Hills, MI 48335
Description: The Easterseals Miracle League of Michigan Golf Outing will follow a simple four person scramble format. This is a team event with simple rules that creates tons of FUN! It enables people who don't regularly golf or even first timers the opportunity to experience this great game while supporting a great cause. There should be at least one semi-experienced golfer on the team as captain to help the less experienced players. The game is played as follows:
1. Each team tries to score the lowest team score for 18 holes.
2. All players drive off every tee.
3. After all the team members have hit their tee shots, the team selects the ball in the best position and all second shots are placed and played within one club length of that selected ball, not nearer to the hole.
4. After the second shots, the best selected and all third shots are played from that position.
5. This is repeated until the hole is completed.
6. For every shot, you can lift, clean, and replace the selected ball, even in the bunker.
7. Wherever the selected ball lies, all shots must be taken from the same area condition. Ex: fairway on fairway, rough on rough, bunker on bunker, hazard on hazard.
8. On the putting green:
- All balls must be placed no further than 4 inches from the selected ball.
- All team members must putt before the putts are taken. If the first player to putt misses with his or her putt, and then hits a second putt into the hole, that "two putt" completes the hole and the team score. The other team members are not given the chance to finish the hole with a "one-putt".
About Easterseals Miracle League of Michigan:
Located in Southfield, Easterseals Miracle League of Michigan, a program of Easterseals Michigan, is the state's first adaptive baseball league.
Miracle League of Michigan teams play on a custom designed, synthetic turf field that accomodates wheelchairs and other assistive devices while helping to prevent injuries. This allows children and young adults with disabilities and special needs to play non-competitive or competitive baseball! For children with special needs, the opportunity to participate in team sports is rare. This league ensures that the participants are offered the same opportunites as able-bodied people.
Easterseals Michigan believes that every child deserves the chance to play baseball, and we welcome you to join our cause and support this league!
Learn more about the Miracle League of Michigan by visiting www.MichiganMiracle.org
IF YOU WISH TO PAY BY CHECK
Please make checks payable to Easterseals Michigan and mail to:
Andrea Harris-Peguese
Miracle Classic
33228 West 12 Mile Rd., #366
Farmington Hills, MI 48334
The Venue
The Farmington Hills Golf Course
37777 11 Mile Court Farmington Hills, MI 48335 More »
Notify Me
Notify Me When An Event I Like Is Added to the Calendar-
click here
Edit My Notification Preferences -
click here